With Ibexa Personalisation, companies can meet the demand for personalised product experiences and customised information for each individual customer. Users that are addressed individually not only stay longer on your website and shop, they are also more willing to buy your products and services. With the personalisation module, the Ibexa DXP for B2B companies offers three approaches to pick up every visitor and customer in the best possible way and decisively improve the success of your company.
The 3 building blocks for successfully personalised e-commerce 
Ibexa DXP, which specialises in the B2B sector, offers building blocks for three types of personalisation with Ibexa Personalisation. These building blocks can be combined for your website and your e-commerce platform. This allows you to optimally target each B2B customer and provide recommendations from the very first visit:
Explicit personalisation - The customer profile determines which products and content the customer sees. The customer can decide for himself which content he wants to see by assigning himself to a customer group or selecting subject areas that are interesting to him.
Implicit or adaptive personalisation - Address the customer specifically in the situation he is currently in. And then offer him exactly the functions or benefits he needs at that moment! You can define the situations via personas and link them to actions.
Automatic personalisation - The user's interaction with the website determines the type of products and content displayed. The algorithms automatically adapt, learn and offer the user more extensive content and products.
Target group-related offers with explicit personalisation
In B2B shops and websites, customers can often be clearly linked to an industry or professional specialisation. For registered customers, the industry can be obtained from the ERP system, for example. Anonymous users can choose their allocation themselves via entry pages, banners or special menu items. In both cases, the explicit personalisation leads to a filtered product catalogue that lists all relevant products for the target group. In our experience, the improved usability is directly reflected in more sales.
For example, Cornelsen Switzerland offers its target group, teachers, a convenient way to filter the extensive range of textbooks by selecting school type and grade level with a single mouse click so that only the relevant titles and series are offered. For registered users, the filtering is done automatically on the basis of the data stored in the ERP. Cornelsen was thus able to noticeably increase sales.
Adaptive personalisation with personas and rules
A user who has not yet sent a well-filled shopping cart after three visits can be persuaded with special offers. You can pick up a regular customer with a targeted address or even a banner. With this type of personalisation, you have a powerful tool for many different use cases.
With implicit personalisation, you can use rules in the Ibexa DXP for B2B to address the needs of the customer in their specific situation. By defining personas, you can describe user situations and offer each customer customised personal benefits.
Define personas at the click of a mouse for which you want to increase conversions through targeted measures.
Define actions such as banners, voucher campaigns, discounts.
Measure the conversions.
Personas can be determined according to various criteria: Origin of the user, devices used, campaigns selected, weather at the customer's location, sales values from the past, data from your ERP or CRM and much more. Actions can be personalised with the information known in the shop about the customer, buying behaviour etc.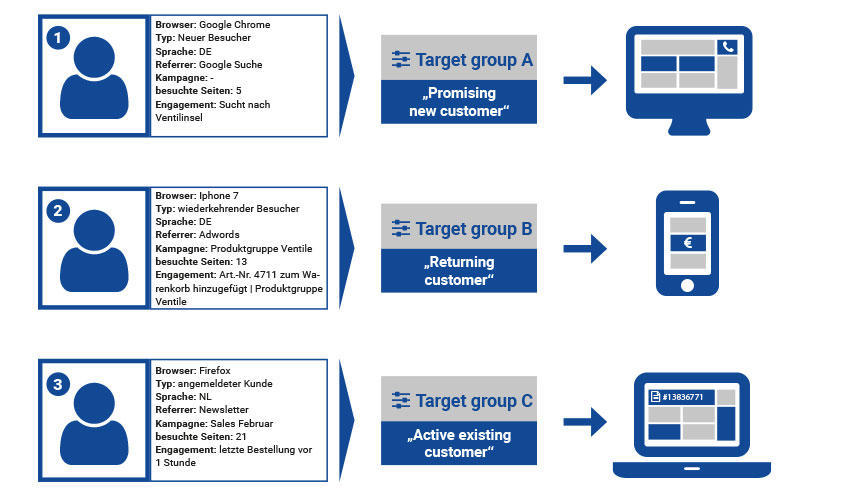 Automated personalisation through recommendations
Based on YooChoose, Ibexa Personalization offers an integrated Recommendation Engine that evaluates user behaviour and delivers personalised product recommendations. The Recommendation Engine learns and thus improves the recommendations over time, leading to higher sales.
The Recommendation Engine not only identifies suitable products for a B2B customer, but also content that can be recommended based on their behaviour. This is a decisive advantage that you can leverage over competitors.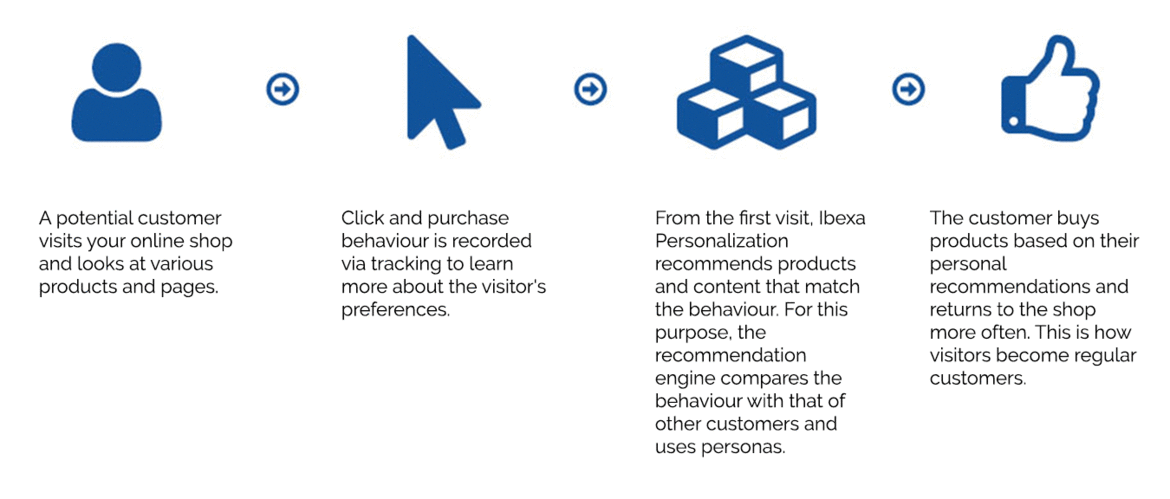 Customers who are using Ibexa Personalization