Ibexa Content is the content module of the Ibexa DXP for B2B commerce. The software supports companies in the development of international online services, websites and apps. With the combined power of Ibexa Commerce and Ibexa Content, you can enrich product pages with useful information and integrate matching products into your content.
The content tools of the B2B DXP
Ibexa Content is a mature content management system that has proved itself in many projects and was designed for large and medium-sized companies. The software effortlessly manages complex content structures, content hubs and international websites. This makes the CMS ideally suited for companies that want to use the Ibexa DXP for the B2B sector. 
With Ibexa Content's rich content tools, companies can quickly create high-quality company pages, FAQs, blogs and guides, and manage a wide variety of media such as videos or PDF data sheets. The CMS also supports marketing campaigns with customised offers and appropriate landing pages.
More productivity in website maintenance
The Ibexa Content platform is designed for maximum efficiency to avoid tying up teams with administrative tasks. Many tasks can be automated and make work easier with user-friendly tools, drag & drop features, form generators or landing pages that can be easily put together on-the-fly.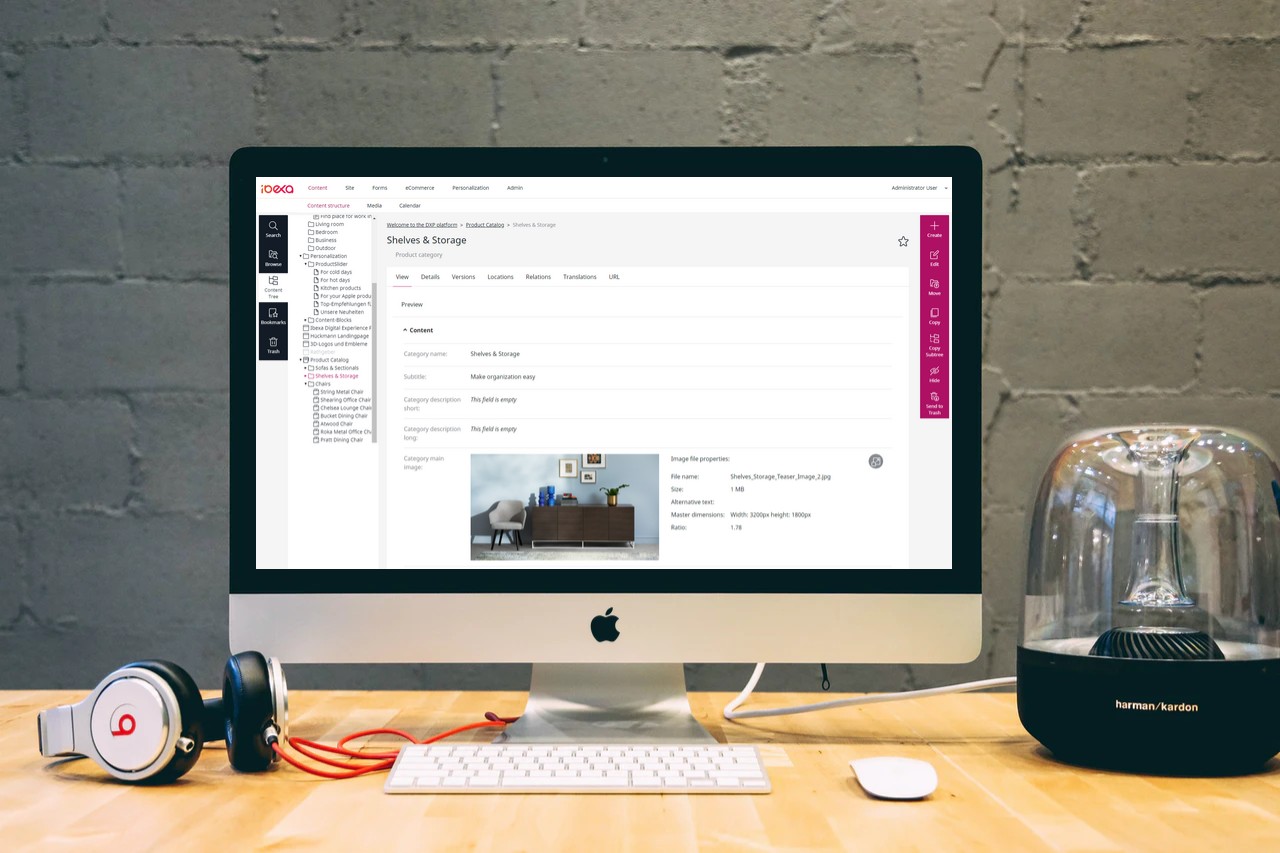 Integrated B2B platform for content & commerce
As the central component of the Ibexa DXP, which specialises in the B2B sector, Ibexa Content teamed up with Ibexa Commerce allows you to maintain high-quality content for various channels and link it to attractive product environments in a single platform. Content and commerce can be flexibly combined to create added value for the B2B customer.
Multisite capability and multilingualism
With Ibexa Content, several websites in different languages can be managed in one platform. The software makes it very easy to share content from a content repository and to reuse it in other websites or in other countries, for example.
Modern headless technology for multichannel content
The content module of the Ibexa DXP relies on state-of-the-art headless technology. By decoupling backend and frontend, Ibexa Content provides customised content for different channels. New, individual frontends can be connected at any time via APIs.
In this way, the advanced CMS can deliver highly specialised content, for example for mobile apps or devices for the Internet of Things. Progressive Web Apps take advantage of the fact that the responsive website on mobile devices can very easily be extended with typical app functions.