PIM systems enable the central management of all information and data on a company's products. Thanks to intelligent PIM integration via the B2B-Connector middleware, product data is uniform and up-to-date in every channel.
One of the cornerstones of a successful digitisation process is top-maintained product data. High-quality product information and images and texts tailored to individual target groups sell more and convey the corporate image better. Product information management systems (PIM) or Product Experience Management (PXM) are the most important tool for optimally structuring and managing product data. With an intelligent connection to the B2B online shop, the PIM or PXM becomes an integral component of a sound e-commerce strategy.
Many customers know about the importance of good product data management and therefore opt not only for an online shop but also for the introduction of a PIM system in the course of an e-commerce project. This way, they can centrally control and quickly update the product data for the online shop and other company areas in the future. At the same time, the information from the PIM is available for other sales channels or for different marketing materials, for example. This significantly reduces the additional effort and, in particular, avoids errors and inconsistent data.
With the B2B-Connector, a middleware for the integration of company systems and processes, a mature integration solution is available. With the adapter for PIM, the middleware accesses the centrally maintained product data from the PIM/PXM, while other data and processes come from the ERP, for example.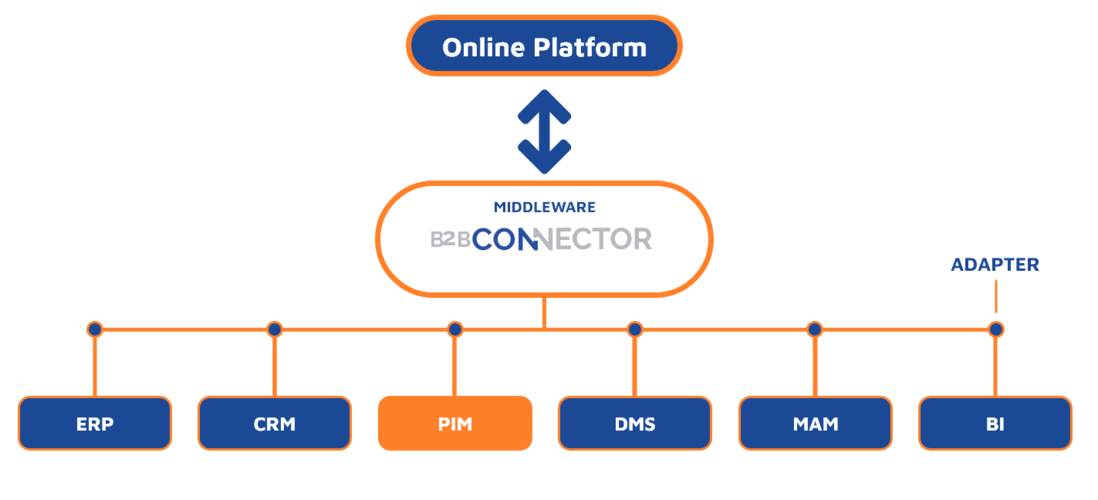 Your advantages with PIM/PXM integration
Central and uniform data management for all channels
Optimal structuring of product features
Better usability in the online shop through customer-oriented filters
Fast reaction to changes
Time savings and increased efficiency
Use of data also in other channels (online, print, PDF)
Central data system for sales, marketing and more
No duplicate data maintenance in the online shop
Errors and outdated information are avoided
PIM synchronisation also possible with the ERP system