For the B2B-Connector middleware, the adapter to Microsoft Dynamics AX (formerly Axapta) provides a proven online interface that connects your ERP securely and in real-time to your online platform. Via the AX interface, you can use the processes from Dynamics AX online: Customer-specific prices, complex products and variants, up-to-the-minute stock levels as well as customer data ensure an outstanding customer experience in your online shop.
Transferring established processes and B2B customer relationships to an online platform is a complex task. With the middleware B2B-Connector, an intelligent integration solution is available that utilises special adapters such as the adapter for Dynamics AX to make your systems and business processes available online.
Via a web service, the adapter makes specifically authorised, pre-defined functions and data from Microsoft Dynamics AX available to the online platform. These processes can then be used by your online shop, for example, to enable customer-friendly and efficient B2B purchasing.
The adapter for Dynamics AX supports AX version 2009 with Application Integration Framework (from 4.0). The web service interface is based on the widely used Open-TRANS format. All data is checked via a configurable mapping.
By using an Application Object Server (AOS) especially for requests from the webshop, the internal system does not undergo any load.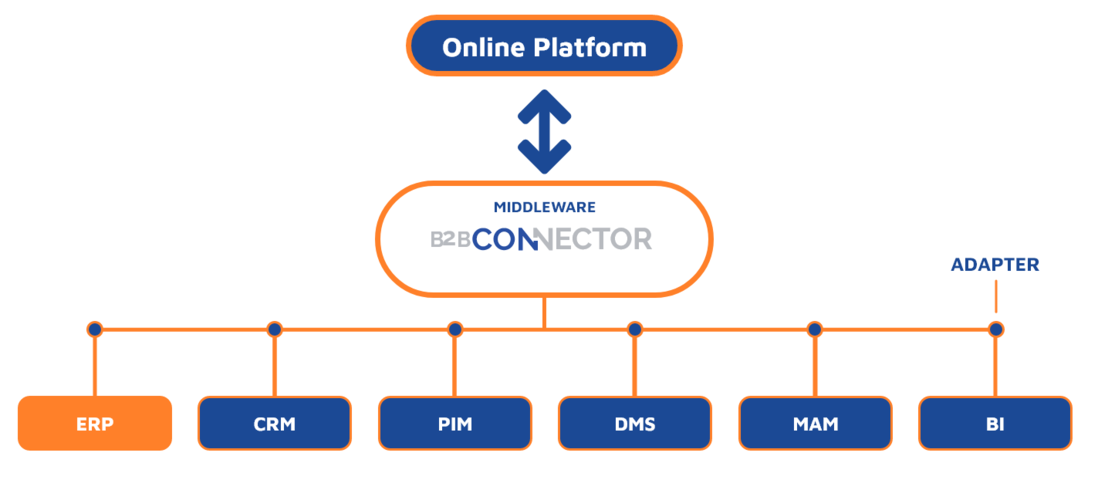 Supported Dynamics AX versions
Application Integration Framework Web Services AX 2009
For newer AX versions a web service interface (SOAP) on the part of AX is required. The web service must support the web service methods required by the shop (e.g. reading of customers, pricing, orders, ...).
Available standard functions for Microsoft Dynamics AX
Read article master and article hierarchy
Read, change and create contacts
Read, change and create debtors
Read and create delivery addresses
Create quotations directly
Customer-specific pricing
Stock enquiry for defined storage locations
Read posted sales documents
Read active sales transactions
Multi-client processing
Multi-currency & multi-language capability
Web service interface