The middleware B2B-Connector integrates your ERP system with your online platform using the adapter for SAP. This allows you to map existing processes from the SAP system online, for example in the B2B online shop. In the online platform, stock levels can be displayed accurate to the second, complex prices and product variants can be retrieved from SAP and customer data can be used.
SAP ERP (formerly SAP R/3, SAP for short) is one of the most widely used integrated IT systems for corporate management worldwide. The software includes solutions for all important business areas, from finance and controlling, purchasing, materials management and production to sales and distribution as well as human resources.
With the B2B-Connector middleware and the appropriate adapter for SAP, you can access the data and processes from the ERP system securely and in real-time to make them available online.
Supported SAP versions
The B2B-Connector for SAP supports different interfaces and thus different SAP versions:
SAP XI (SAP Exchange infrastructure)
SAP PI (SAP Process integration)
SAP BC (SAP Business Connector)
The adapter works with these SAP versions:
The required business processes must be provided by the SAP partner.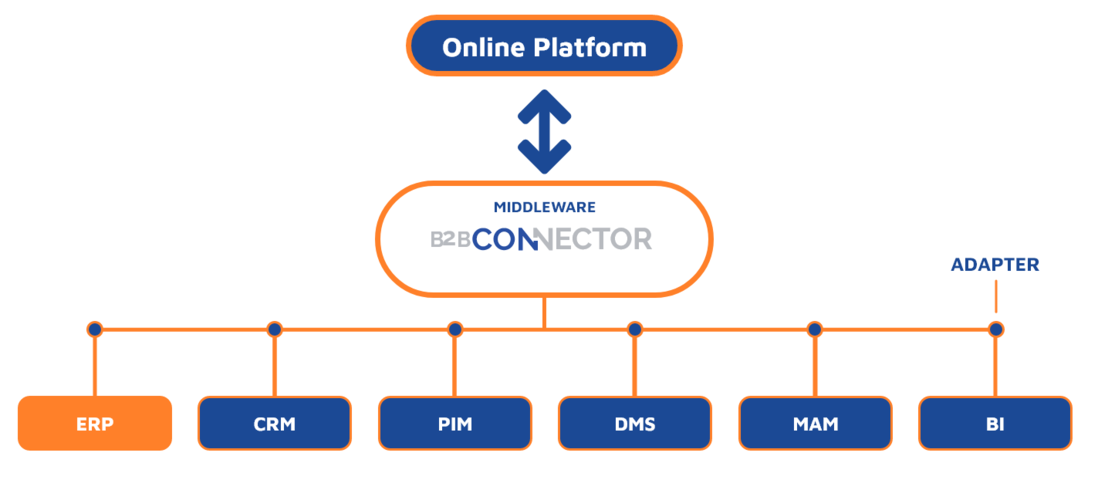 Available standard functions for SAP
Read debtors
Read shipping addresses
Direct creation of orders
Customer-specific pricing
Stock enquiry
Read posted sales documents
Reading active sales transactions
Multi-client processing
Multi-currency & multi-language capability
REST interface
Additional functionality can be added by your SAP partner.