One of the cornerstones of a successful digitalisation process is efficiently managed product data. High quality product information with images and text tailored to individual target groups sells more products and can better convey the company image. A product information management systems (PIM) is the most important tool when it comes to the optimum structuring and management of product data. With an intelligent linkage, the PIM is fast becoming an integral part of a sound e-commerce strategy.
silver.solutions serves customers from a wide range of industry sectors, who, as a result of their specific product ranges, have very different needs in terms of product data and its management. Our customers run PIM systems from various manufacturers, such as Contentserv, OpusCapita (formerly jCatalog), Informatica PIM, Informatica MAM and Viamedici. Solutions that extend the installed ERP system by the addition of PIM functionality are also not uncommon. 
With sound technical know-how, process knowledge and best practice examples, silver.solutions supports its customers with the integration of data from the product information system in the ERP, website and online shop. In online shop projects in particular, up-to-date, well prepared product data can make a decisive difference.
A PIM system integrated into Microsoft Dynamics NAV and silver.eShop
silver.solutions has developed an ERP-PIM interface that enables the exchange of product data from Microsoft Dynamics to Akeneo. Products that have been enriched with marketing information in Akeneo are transferred in real-time to e-Commerce platform silver.eShop. This way you can generated high quality product information for both online and print in a much shorter timeframe.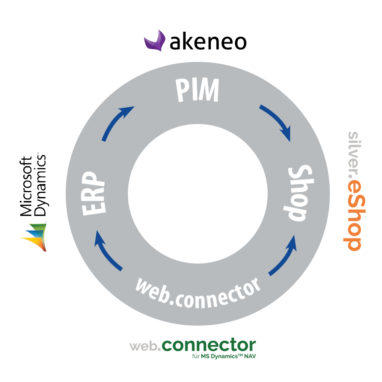 Easy entry into product data management with Akeneo 
Many customers are aware of the importance of good product data management, but are simultaneously deterred by the complexity and the financial investment needed to roll out a PIM. Our e-business experts can offer excellent support with the issue of complexity and, for example, break down this topic into clear sections in shared workshops.
To lower the initial hurdles somewhat in software terms, silver.solutions has implemented integration for the modern open source PIM Akeneo that integrates Akeneo directly in Microsoft Dynamics NAV and silver.eShop. 
Akeneo offers a clearly laid out user interface, offering convincing functions for product content management that are already standard. Products are flexibly and intuitively structured and organised using catalogues and output channels. Content can be easily translated into several languages. A practical progress tool indicates the completeness of the content for the various output channels, and shows exactly where content may be missing or needs editing.