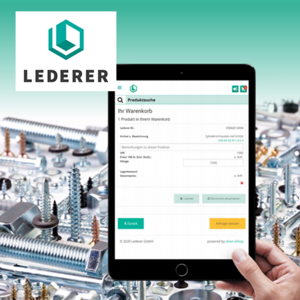 You read in the Case Study
With the ERP release change to Dynamics NAV 2018 with the industry solution UNITOP, a new B2B online shop will also be introduced at Lederer. The wholesaler wants to modernise its e-commerce offering and provide its customers with useful extras that enable buyers to order particularly quickly and conveniently in the shop.
Lederer does not want to present the products via a product catalogue, but relies on a powerful search function. This search should above all include the numerous product details and variants. For example, customers can search by the material, standard, length or diameter of an article. To display availability, customers can also enter the desired quantity of the article.
Performance is an important factor for Lederer when implementing the new B2B e-commerce solution, as is maximum security. In addition, the shop should be more user-friendly and flexible enough to be quickly adapted to changing requirements.