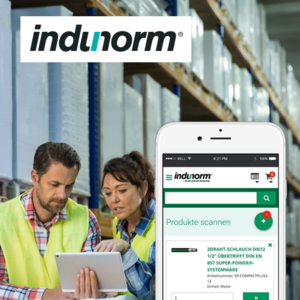 About the Case Study
Indunorm wants to expand its e-commerce solution on mobile devices with a barcode scanner for fast reordering. The technology of choice is a Progressive Web App, which adds useful app features to the existing online shop based on silver.eShop.
A native app for the different mobile operating systems is out of the question for Indunorm. Instead, the already existing mobile version of the current online shop is to be extended and turned into a scanner app. The handling of the online shop on the smartphone should still feel like an app for the customer, complete with full screen display in the browser and an icon on the start screen. Customers will be able to reorder products particularly quickly and easily.
On top of that, Indunorm wants to support customers in the mobile shop with an identification option for parts. For this purpose, the user can take a photo of the item in the mobile shop version and send it to Indunorm. The range of additional mobile functions is supplemented by a quick access to tracking and tracing, so that customers can transparently track their deliveries.