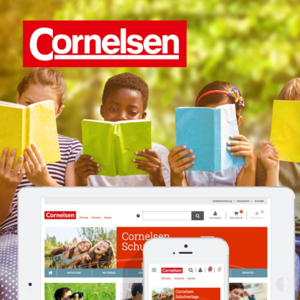 About the Case Study
The main objective of the project is the realisation of an online shop for Cornelsen Schulverlage Schweiz AG with a connection to Microsoft Dynamics NAV. The target group of the Cornelsen web shop is teachers, but it is also possible for end customers and trainee teachers to order online. The design is based on the online presence of the German parent company. The focus of the shop development is the implementation of a powerful search function that optimally reflects the teachers' field of work.
The Cornelsen shop is realised with the B2B platform silver.eShop and has a real-time connection to Microsoft Dynamics NAV. The e-commerce platform obtains all product data from Navision and receives detailed hierarchy information, which is used as a filter in the shop along with many other criteria. In the Cornelsen shop, in addition to classic book titles, worksheets and e-books are available for direct download. The most important classification criteria for the entire product range are the school level and subject.