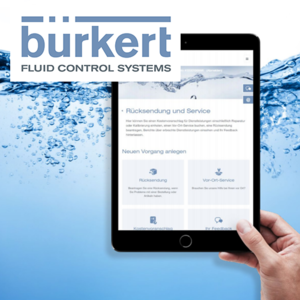 About the Case Study
With a new customer portal, Bürkert Fluid Control Systems wants to offer its customers convenient management options for orders, offers and services related to its products. The My Bürkert customer portal fits seamlessly into the manufacturer's website and online shop and puts the customer at the center of attention with well thought-out functions and short distances. The customer portal was implemented entirely as a Headless Commerce application.
The customer portal is the central point of contact for customer service and for booking services for products. With real-time data from the SAP system, the customer maintains an overview of the status of all orders and services. The customer portal replaces the previous system and introduces new functions and dashboards.
The dashboard in the service area gives customers a quick overview of their latest inquiries, returns, and ordered services. They can also take advantage of a straightforward feedback facility, which Bürkert uses to continually improve its offering. The basis for My Bürkert is silver.eShop, the B2B e-commerce solution from silver.solutions.