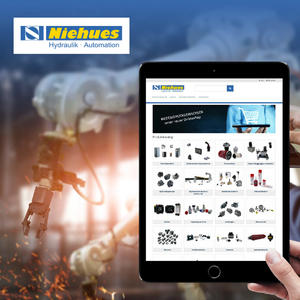 About the case study
With a new e-commerce platform, Th. Niehues GmbH is opening up a new sales channel. The dealer increases the visibility of his product range on the web and can address new customer groups. In the new B2B online shop, Niehues intends to sell its hydraulic and automation products to its business customers from the mobile and stationary mechanical and plant engineering industries, among others.
A central requirement of the project is the connection of the silver.eShop with Niehues' in-house ERP system, Microsoft Dynamics AX. The web.connector provides an a smart interface that allows access to real-time data from the ERP. This enables Niehues to display stock levels to the second, customer-specific prices and current customer data in the online shop. 
The e-commerce project also includes convenience functions for B2B buyers such as quick orders and saved shopping baskets as well as special extensions to the online shop.