Fruchthof Nagel
New Fruchthof Nagel website integrates shop elements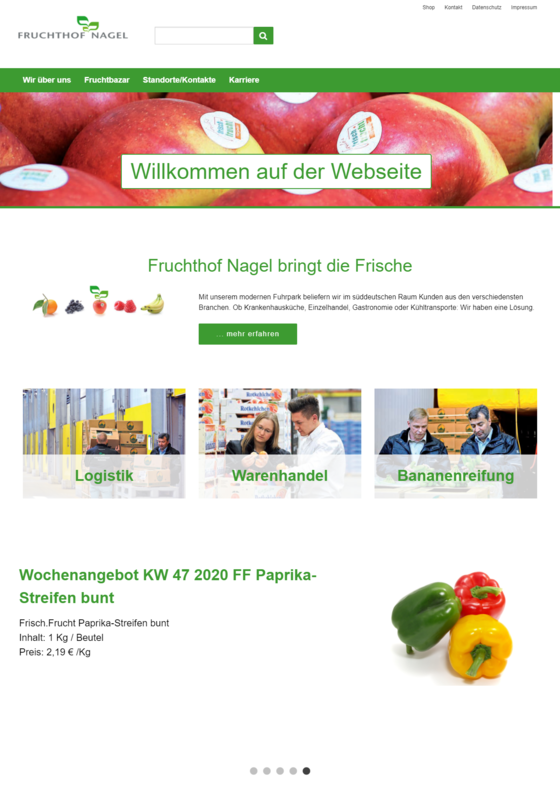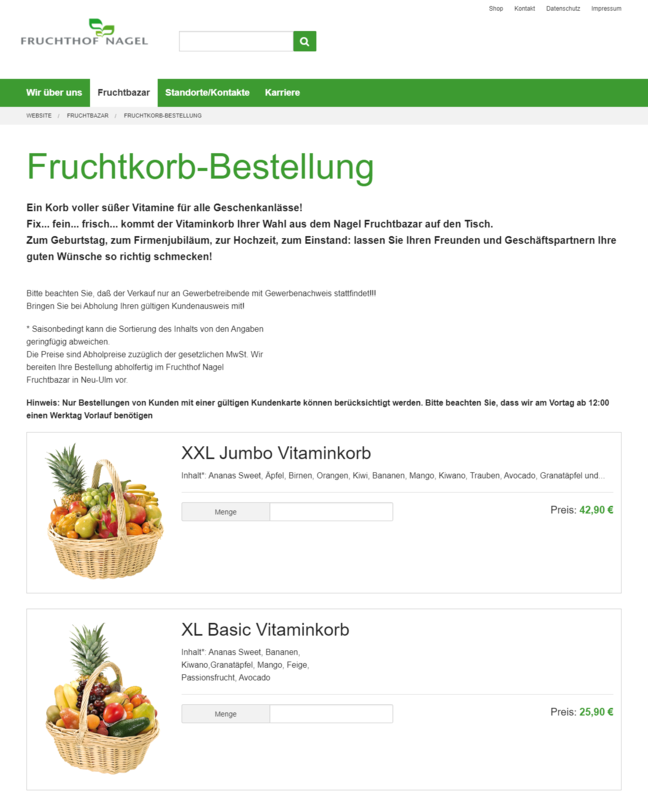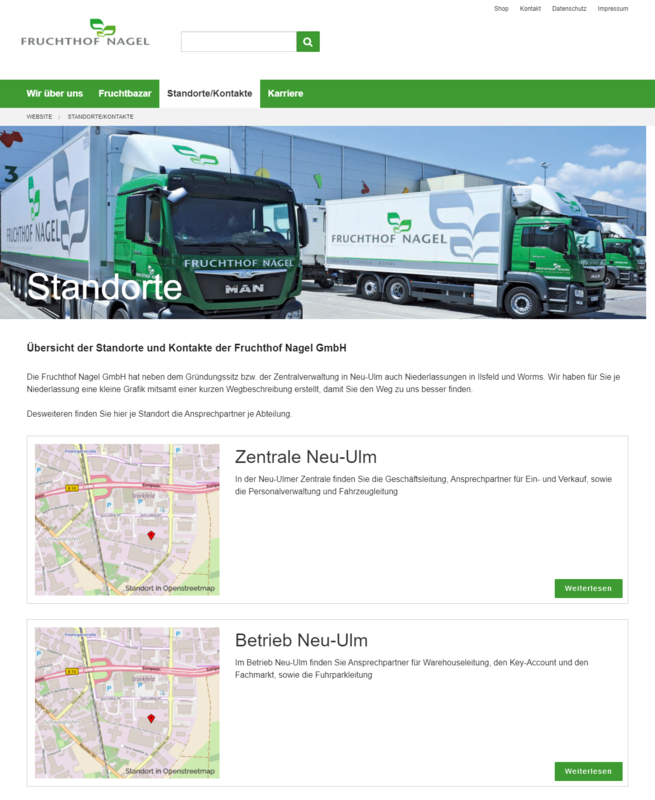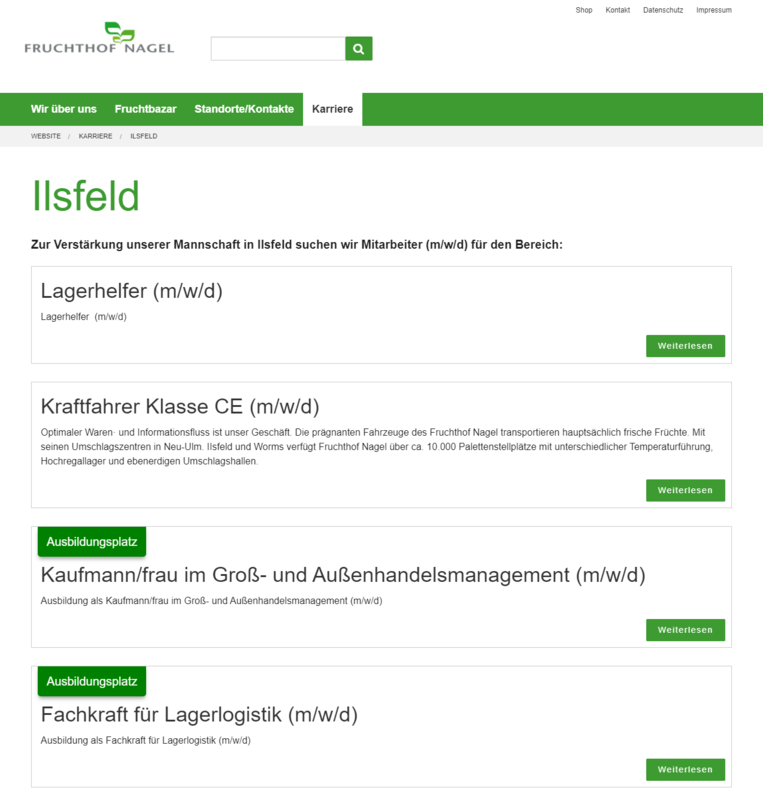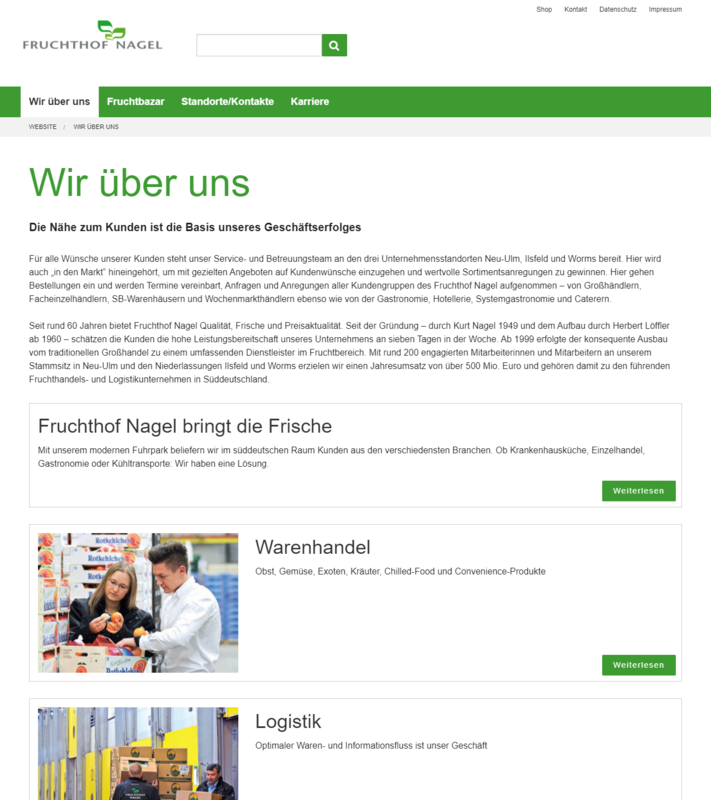 In addition to modernising the platform, the aim was to be able to implement new functionalities for future requirements more quickly. In the meantime, several small changes have been implemented in a very short time since the relaunch, which proves that the effort was worthwhile. In addition, affiliate marketing is intended to improve the loyalty of existing customers and attract new ones. For this purpose, we will soon enter into a cooperation with representatives of leading gastronomy media. The look and feel of the new combination of website and shop is simply "great". Also the maintenance of changes is now easier because there is only one backend system that you have to get used to. In addition, it is now easier for us to place offers on the website and we no longer have to remove them manually when they expire, as this is now controlled by the shop logic. The cooperation was very pleasant and goal-oriented. In the case of requirements that could be solved in different ways, we weighed up the best and most cost-effective solution with them. The implementation was carried out promptly according to the requirements and change requests, and the solutions created were almost error-free even in the beta phase.

Michael Wolf, Head of IT, Fruchthof Nagel GmbH
Content & Commerce in one system
Fruchthof Nagel is pushing ahead with the modernisation of its online presence with a new website. After silver.solutions has already built the wholesaler's B2B online shop on a new, future-proof foundation, the company website is now following suit. The key feature of the new platform is that both the online shop and the website are managed in a single system. This gives Fruchthof Nagel unique tools for combining content and commerce across all online areas.
Fruchtbazar takes advantage of the integrated platform
The recently launched e-commerce platform based on the Ibexa platform also enables Fruchthof Nagel to build modern and responsive websites. That' s because the shop software not only integrates sophisticated e-commerce functions, but also a professional CMS and convenient landing page tools. Thus, the common software base of website and shop makes it easy to add e-commerce functions to the website and to integrate useful content into the online shop.
One area of the new website is the fruit bazaar, which offers customers an easy way to order fruit baskets and party plates. Buyers can do this directly on the website without having to switch to the B2B shop. The fresh gifts and treats can be ordered in a simple checkout process. Customers select the number of baskets or plates, enter their contact details and customer number in a form and specify their desired pick-up time.
Website presents weekly offers from the shop
With the Pagebuilder, the easy-to-use landing page tool of the e-commerce solution, Fruchthof Nagel maintains the individual areas of its new homepage. In a central area, the retailer presents its weekly offers. A click on an article takes customers to the product page in the B2B shop.
Job offers can be viewed for the individual locations
A new feature of the website is the display of job offers matching the respective Fruchthof Nagel location. If a website visitor is looking for information about the individual branches of the retailer, they can also click on a button to view the current job offers at the respective location. Apprenticeship training positions are highlighted separately.
Fruchthof Nagel benefits from modern e-commerce platform
Following the shop system, Fruchthof Nagel has now also placed its website on a modern, future-proof basis. The company benefits from the integrated content and commerce functions of Ibexa Commerce and enriches its new website with offers and simple ordering options. The next expansion stage of the platform will be the launch of a subscription box for companies, which will also be realised by silver.solutions.