The Group of Analysts issues top rating for silver.eShop
22 Mar 2017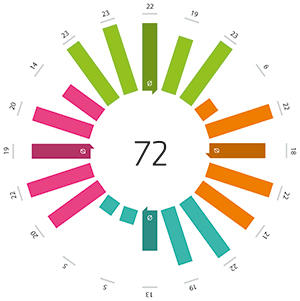 Again silver.solutions GmbH has submitted their e-commerce solution for evaluation to the business experts of the GROUP OF ANALYSTS. The Group of Analysts (TGOA) is a market research company offering evaluations of developments in the IT world. TGOA observes and interprets the effective performance of the software market using a new analysis methodology that is based on customer evaluation and research results gathered over the past twelve years. This year's rating for silver.eShop and silver.solutions turned out even better than in the previous years. 
silver.solutions is exceptionally proud of the top scores in the area of B2B function modules. With 23 out of a possible 25 points and silver.eShop ranks on the very top and positions itself as a clearly-focused, powerful B2B services provider. Also noteworthy are top marks for solution approach and integration. Those numbers combined reflect the company's high level of integration competence. A thorough preparation and concept phase targeted at finding the right connecting factors is important in taking a customer's sector-specific special features into account from the start. silver.solutions aims at developing a holistically-functioning solution with consideration of all company processes. As TGOA points out, this integration competence is remarkable and certainly a USP within the B2B eCommerce solutions market. Such a holistic approach is otherwise usually only found with the major ERP providers – albeit at a considerably higher price.
Interested in reading the full analysis? We gladly send out the complete Market Performance Wheel and the Letter of Analysts.
Request Market Performance Wheel