New Release: silver.eShop 3.5 has arrived
5 May 2017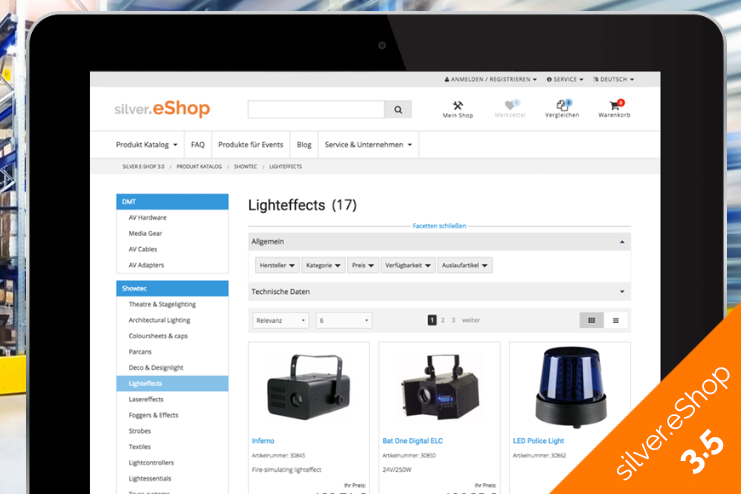 It comes loaded with an abundance of new online marketing and service functions. This update puts a special focus on corporate clients and dealers. New service functions and plugins will make your shop even more successful. The new consultation function for example is optimal for consulting with customers on-site. This practical feature enables retailers to use the shop as support when meeting with customers because at the push of a button the retailer's individual prices are hidden. 
More service for you and your customers
Update 3.5 provides greater convenience for major customers and retailers in particular: the new module "Request quotation" permits your customers to obtain project-specific quotations in the shop and commence negotiations with you. The new consultation function is optimal for consulting with customers on-site. This practical feature enables retailers to use the shop as support when meeting with customers because at the push of a button the retailer's individual prices are hidden. 
Starting with Version 3.5, search also takes customer-specific item numbers into account. In practice this simply means that the shopper can locate a product both under the manufacturer SKU and the SKU under which the product is listed in your own system. In this context, it makes no difference if the customer uses search or the quick order form.
With update 3.5 silver.solutions has extended the communication between webshop and ERP system. This way shop owners can save both time and money. As one important example addresses that had always been the sole responsibility of the ERP can now be changed and deleted in shop system as well and will automatically be synchronised with the ERP. This is a big time-saver for your back office staff. 
And while the shop has always been up to date on stock thanks to the direct connection to the ERP now silver.eShop is also able to inform customers about availability. Through a couple of clicks customers can create a notification to receive an e-mail once the item is back in stock. 
Marketing Features
A Newsletter2Go Plugin is available now for silver.eShop that makes it possible to directly link the shop with the Newsletter2Go e-mail marking solution. In Newsletter2Go, you can access selected data from your ERP and use this data to apply filters. For example, this permits you to segment your customers by shopping history, customer groups or other features and target them in a more focused manner. This means that there are no more barriers to successful, personalised e-mail campaigns.
The search statistics in the back-end offer even more key figures that can be used as part of ongoing shop optimisation. Of particular interest: The list of search terms the resulted in no or only a few hits. Update your product texts and synonym lists accordingly and access even greater sales potential.
Starting with Version 3.5, silver.eShop offers Design Themes for the catalogue: Create different product presentations by category. For example, you can present technical products that have numerous features using clear tables, info blocks or tabs and, by contrast, you can present seminars using more images, texts and videos.
With the new Rating & Review function, shop operators now can receive feedback directly from customers and supplement their own product data with important extra information. Comments can be administered or exported via an integrated management interface in the back-end.
Feature Overview
Flexible catalog view – various design themes depending on product catagory
Customer specific SKUs for search
Rating and Review with administration panel
More features to enhance products and categories with data from PIM, ERP or CMS
Submit additional data in the basket
International postal code validation with country specific rules
Extended search statistics in silver.eShop Cockpit
Enhanced offline functionality: local order history with practical administration dashboard
For specialist dealers: Hide prices on click
Opitimised "My profile" section
Address book now fully integrated with ERP – customers can edit address data directly in the shop and the ERP will be automatically
Optimised product import for NAV with multiple variants
ReCaptcha function for forms to limit spam
New overview for saved baskets
New plug-ins
Newsletter2Go integration
Request offer
Availability notification
Technical details regarding the release can be found in the release notes document.
Or you can follow this link for a quick overview for the most important shop features: http://www.silversolutions.de/en/silver-eshop
Curious about the new features and additions? We would be happy to send you access data for our demo shop or to introduce you to silver.eShop through a personal webcast.